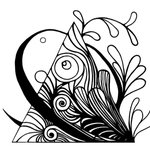 Steph Drömer
Stephanie Drömer is a German graphic designer and illustrator based in Berlin where she got her degree in graphic design. She also got a BFA in Illustration in Bournemouth. Her extensive traveling throughout Japan, Great Britain, Russia, India, the mainland of Europe and Africa provide the basis for her wide range of techniques and interests and gave her the artistic identity she now possesses – a variety of skills that stretches from graphic design and photography through film to drawing and collage. She has a huge dedication for nature and its shapes and colors. Her work has been exhibit in London, Berlin, Helsinki, Bournemouth and Brandenburg. Blog: http://stephaniedroemer.tumblr.com/ FB: https://www.facebook.com/stephaniedroemer Flickr: http://www.flickr.com/photos/stephdroemer www.stephaniedroemer.com Steph Drömer joined Society6 on February 9, 2014
More
Stephanie Drömer is a German graphic designer and illustrator based in Berlin where she got her degree in graphic design. She also got a BFA in Illustration in Bournemouth. Her extensive traveling throughout Japan, Great Britain, Russia, India, the mainland of Europe and Africa provide the basis for her wide range of techniques and interests and gave her the artistic identity she now possesses – a variety of skills that stretches from graphic design and photography through film to drawing and collage. She has a huge dedication for nature and its shapes and colors. Her work has been exhibit in London, Berlin, Helsinki, Bournemouth and Brandenburg.
Blog: http://stephaniedroemer.tumblr.com/ FB: https://www.facebook.com/stephaniedroemer Flickr: http://www.flickr.com/photos/stephdroemer
www.stephaniedroemer.com
Steph Drömer joined Society6 on February 9, 2014.