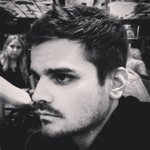 Stephen Wilson
My name is Stephen Wilson. I'm an illustrator, graphic designer, musician and photographer from Minneapolis, MN. Currently, I'm known for making artwork for a variety of death and black metal band, but lately I have been interested in expanding my visual works beyond just black and white illustrations and esoteric drawings. So, here I am, posting some of my edited photographic work and experimenting with different visual ideas that I feel will help push me along as an artist, and also give me something to do in between my many projects. You can see my other artwork over on my Facebook page, http://www.facebook.com/swilsonart, and get in touch with me at blackuroborus@gmail.com. Thank you for looking and I hope you enjoy my work! Twitter: http://www.twitter.com/unknownrelic Instagram: http://www.instagram.com/unknown_relic Website: http://www.unknownrelic.com/ Stephen Wilson joined Society6 on June 27, 2015
More
My name is Stephen Wilson. I'm an illustrator, graphic designer, musician and photographer from Minneapolis, MN. Currently, I'm known for making artwork for a variety of death and black metal band, but lately I have been interested in expanding my visual works beyond just black and white illustrations and esoteric drawings. So, here I am, posting some of my edited photographic work and experimenting with different visual ideas that I feel will help push me along as an artist, and also give me something to do in between my many projects. You can see my other artwork over on my Facebook page, http://www.facebook.com/swilsonart, and get in touch with me at blackuroborus@gmail.com.
Thank you for looking and I hope you enjoy my work!
Twitter: http://www.twitter.com/unknownrelic Instagram: http://www.instagram.com/unknown_relic Website: http://www.unknownrelic.com/
Stephen Wilson joined Society6 on June 27, 2015.