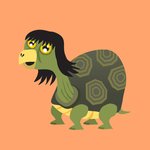 Steve Steiner
Steve Steiner graduated Columbus College of Art and Design in 2004. Since then, he cartooned and worked for several small newspapers in Western Pennsylvania and the Columbus Dispatch located in Columbus Ohio. He's best know for having several comics in the competitions of Zuda Comics, DC Comics's now defunct webcomic imprint. Those comics include "Everyone Laughs at the Crocodile Man," "Colonel MacTagart," and "Middle-Aged Monster." He finally won a contract with Zuda as the colorist of the February 2009 winner "The Hammer." Steve currently resides in Columbus, Ohio with his wife Jennifer and her secret serial killer cat, Kali. Steve Steiner joined Society6 on November 21, 2013
More
Steve Steiner graduated Columbus College of Art and Design in 2004. Since then, he cartooned and worked for several small newspapers in Western Pennsylvania and the Columbus Dispatch located in Columbus Ohio.
He's best know for having several comics in the competitions of Zuda Comics, DC Comics's now defunct webcomic imprint. Those comics include "Everyone Laughs at the Crocodile Man," "Colonel MacTagart," and "Middle-Aged Monster." He finally won a contract with Zuda as the colorist of the February 2009 winner "The Hammer."
Steve currently resides in Columbus, Ohio with his wife Jennifer and her secret serial killer cat, Kali.
Steve Steiner joined Society6 on November 21, 2013.