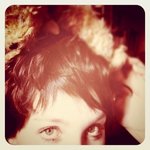 Stina Strangis
Stina Strangis creates art because she is lost without it. It is a basic need in herself, to be creating something, whether it is writing, photographing or bookmaking.
When she feels a piece of her work has turned out really well, it means that it is well made and the meaning and look of it is portrayed how she initially envisioned it.
From the variety of medias she works in the making books is her preferential art form. She gains a distinct feeling of satisfaction when she has completed a book and enjoys the many different aspects of putting a book together and its intricacy. People often ask what her favourite tool is, to quote her "Mine is my hand. It holds my pencil and my camera. It helps me to fold my paper and to do whatever I require of it. If I have no materials I shall use it to write in the earth."
Stina aims to make her art accessible and honest and feels that these are possibly the most important aspects of her work. Often her work is heartfelt, emotional and difficult but without excluding the viewer; she hopes that everyone viewing the work can feel an affiliation with it.
Her family and friends inspire her the most. Family photography and portraits are also a large influence. Artists and theorists such a Jo Spence and Marianne Hirsch inspire her greatly in this area.
Stina is also inspired by the rural background that she has. Originally being from a small village in South Wales and now residing in Cardiff, she has the beautiful Welsh landscape at her fingertips. The flora and fauna of her family home also inspires her with its ever-changing colours and growth. She possibly photographs her mother's garden more than anything else. This is a reflection of who she is and the beautiful memories she has of being a child growing up in this area.
Stina can spend many days, hours or weeks on a piece of work. Sometimes working only when the mood takes her, other times working to fulfil a need in herself. Often she likes to practice different techniques and get them perfected before completing a piece or work.
Stina's vision is to continue to make art in the South Wales area as she feels it is an inspiring place. Her artwork will continue on varied themes and include her newly found love of book making as well as photography and poetry.
Read more
Stina Strangis's Store
Filter