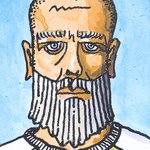 Stisen
I am a Scandinavian artist based in Scotland UK. I use photography, illustration and words as well as computer programming and electronics in my work. I have a background as commercial photographer and software engineer, with an early past in music and theatre. For inquiries please write to: studio@maddocman.com Visit my website for further information at: http://www.maddocman.com On Behance: http://www.behance.net/maddocman Cheers, Stisen Stisen joined Society6 on May 20, 2016
More
I am a Scandinavian artist based in Scotland UK. I use photography, illustration and words as well as computer programming and electronics in my work. I have a background as commercial photographer and software engineer, with an early past in music and theatre.
For inquiries please write to: studio@maddocman.com
Visit my website for further information at: http://www.maddocman.com
On Behance: http://www.behance.net/maddocman
Cheers, Stisen
Stisen joined Society6 on May 20, 2016.