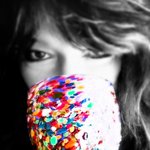 :: GaleStorm Artworks ::
My artwork CELEBRATES life ♥ I paint abstracts (sometimes coffee or wine added to the canvas). My art has a certain geometrical whimsy with colorful rhythms and a bit of a modern day impressionist style. Jeweled trees, enchanting grasses, falling circles of colored-rain... are some of the ideas provoking my designs.
The digital abstracts are created from photos I've taken of nature or are re-creations of my paintings.
I really love it when my artwork inspires your imagination ~~ Gale Storm ~~
COPYRIGHT NOTICE
All work in this gallery is the original work of GaleStorm.Arts It is for sale, copyrighted to GaleStorm.Artworks and, as such, is protected by US and International Copyright laws. ALL RIGHTS RESERVED. 2007-2014. The images may not be copied, reproduced, manipulated or used in any way, without written permission of GaleStorm.Artworks. Any unauthorized usage will be prosecuted to the full extent of U.S. Copyright Law.
Read more
:: GaleStorm Artworks ::'s Store
Filter