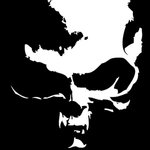 Jyri Straechav
I am a mixed media artist, who concentrates mostly on Surreal Horror paintings. I paint mostly on computer, but I do most of my sketches on pencil and scan them in. Some of my paintings are done on Gouache or Acrylics, although most are a combination of various techniques -- almost always the final phase happens on computer. These days I am experimenting on combining Digital Painting, 3D and Acrylics/pencils in to one harmonious workflow. Jyri Straechav joined Society6 on May 8, 2012
More
I am a mixed media artist, who concentrates mostly on Surreal Horror paintings.
I paint mostly on computer, but I do most of my sketches on pencil and scan them in. Some of my paintings are done on Gouache or Acrylics, although most are a combination of various techniques -- almost always the final phase happens on computer.
These days I am experimenting on combining Digital Painting, 3D and Acrylics/pencils in to one harmonious workflow.
Jyri Straechav joined Society6 on May 8, 2012.