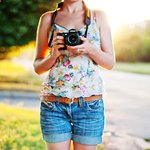 strawberrymood
Hi, I'm Julia, a daylight film & digital photographer. I'm in love with people, animals, nature & natural light. I'd be glad if you find something you like in my shop! If so - let me know by posting a photo with smth you bought and marking me https://www.instagram.com/krasovskayajulia/ https://www.instagram.com/strawberrymoodphotography/ Thanks! Strawberry Mood - is the Mood of Life! http://strawberrymood.com/ strawberrymood joined Society6 on October 10, 2012
More
Hi, I'm Julia, a daylight film & digital photographer. I'm in love with people, animals, nature & natural light. I'd be glad if you find something you like in my shop! If so - let me know by posting a photo with smth you bought and marking me https://www.instagram.com/krasovskayajulia/ https://www.instagram.com/strawberrymoodphotography/ Thanks!
Strawberry Mood - is the Mood of Life! http://strawberrymood.com/
strawberrymood joined Society6 on October 10, 2012.