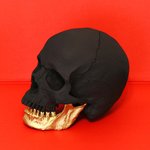 Stuart Haury
I'm a designer, photographer and artist living in the American West CoastI have over 10 years of design, branding and user experience design, and I've been practicing photography for over 20 years. My creative endeavors usually revolve around the romanticism of travel and exploring new spaces, conceptual storytelling, or teaching myself new artistic mediums. I'm inspired by timeless, classic and modern Zeitgeists. "There is too little mystery in the world." - Robert Greene http://instagram.com/dontworrybehaury https://www.behance.net/stuarthaury www.stuarthaury.com Stuart Haury joined Society6 on January 21, 2015
More
I'm a designer, photographer and artist living in the American West CoastI have over 10 years of design, branding and user experience design, and I've been practicing photography for over 20 years. My creative endeavors usually revolve around the romanticism of travel and exploring new spaces, conceptual storytelling, or teaching myself new artistic mediums. I'm inspired by timeless, classic and modern Zeitgeists.
"There is too little mystery in the world." - Robert Greene
http://instagram.com/dontworrybehaury https://www.behance.net/stuarthaury www.stuarthaury.com
Stuart Haury joined Society6 on January 21, 2015.