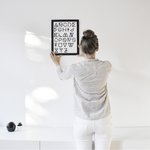 studio na.hili
Berlin based graphic artist, interior stylist and designer Anna Albertine Baronius. Under the name studio na.hili, she creates jewelry, graphic & photographic posters. Her inspiration comes from long travels, the never ending admiration of mother nature, and a love of Scandinavian simplicity. Feel free to follow me here and along my private & creative life on instagram. Happy to see you soon & Love from Berlin! https://www.instagram.com/studio_nahili/ http://facebook.com/i.like.nahili studio na.hili joined Society6 on February 25, 2017
More
Berlin based graphic artist, interior stylist and designer Anna Albertine Baronius. Under the name studio na.hili, she creates jewelry, graphic & photographic posters. Her inspiration comes from long travels, the never ending admiration of mother nature, and a love of Scandinavian simplicity.
Feel free to follow me here and along my private & creative life on instagram. Happy to see you soon & Love from Berlin!
https://www.instagram.com/studio_nahili/
http://facebook.com/i.like.nahili
studio na.hili joined Society6 on February 25, 2017.