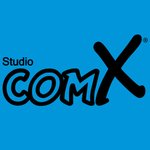 Studio ComX
Comics as an art medium is awesome. that is why we established Studio ComX in 2004 to create and sell original comics art. We have developed a unique style that combines elements from American comics, Japanese comics (also known as "Manga") and elements from the pop art culture. Our art is created using traditional comics drawing technique such as pencil drawing, inking, digital coloring and adding of shades and highlights. Over the years, we have also managed to create some adorable and cute characters that have managed to capture the hearts of kids all around the world. This is our story. You are welcome to our shop. please feel free to share our story with your friends. Studio ComX joined Society6 on September 9, 2015
More
Comics as an art medium is awesome. that is why we established Studio ComX in 2004 to create and sell original comics art.
We have developed a unique style that combines elements from American comics, Japanese comics (also known as "Manga") and elements from the pop art culture.
Our art is created using traditional comics drawing technique such as pencil drawing, inking, digital coloring and adding of shades and highlights.
Over the years, we have also managed to create some adorable and cute characters that have managed to capture the hearts of kids all around the world.
This is our story.
You are welcome to our shop. please feel free to share our story with your friends.
Studio ComX joined Society6 on September 9, 2015.