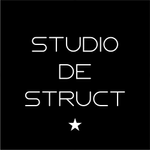 STUDIO DE STRUCT
Studio de Struct was founded in 2006 by Aleksandar Djalek Djordjevic, a photographer, graphic designer and translator from Belgrade. He spent a large part of his life in Germany and in Berlin – the city that remains his great inspiration – he made his first artistic steps.
His main sources of inspiration, besides Berlin, are graffiti, jazz, comics and ancient Mongolian drinking rituals.
Today he is working as a freelancer for numerous international companies (more info on faust.rs) but manages to find time for his other projects: Studio de Struct, Beogradski grafiti, ZX Spectrum Games…
In 2016 he has published the book Street Art Belgrade, a book about the graffiti and street art scene in Belgrade. The book is bilingual – the texts are in Serbian and in English, and in 2017 a new version of the book was published with texts in Serbian and in French. On beogradskigrafiti.com you can find more information about the book and the project.
Studio de Struct serves as a showcase for his graphic works – here you can find images / photo-graphics from different categories: cities and architecture, nature, people and animals…
Most of the works are available for purchase. In our shop you can find various articles like art prints, tote bags t-shirts, phone cases… Choose your favorites and order them easily online.
Read more
STUDIO DE STRUCT's Store
Filter