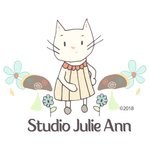 Studio Julie Ann
My style is simplistic, fun, hand drawn, hand painted, quirky, with a touch of boho and mix 'n match them all. I'm basically an outdoors nut! My passions are Fly Fishing, Camping and Hiking with my GSD, Oscar dog. Where there are Pine Trees, Mountains, Streams and Rivers, you're likely to find us milling about. Studio Julie Ann joined Society6 on February 2, 2014
More
My style is simplistic, fun, hand drawn, hand painted, quirky, with a touch of boho and mix 'n match them all.
I'm basically an outdoors nut! My passions are Fly Fishing, Camping and Hiking with my GSD, Oscar dog. Where there are Pine Trees, Mountains, Streams and Rivers, you're likely to find us milling about.
Studio Julie Ann joined Society6 on February 2, 2014.