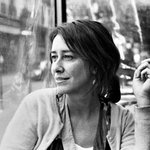 StudioKoten
Just as one creates a story with words, StudioKoten uses images to build another, often surreal world. Sometimes scary, sometimes sweet. But always full of humor and colorful. Only when you look closely, you can see what is real and what is fiction. Then you step into another world. As in everyday life, much of what you see is not what it seems. The collages of StudioKoten are handmade. Pictures from vintage and new magazines or books are cut out and assembled into new compositions. StudioKoten is based in Amsterdam, The Netherlands. StudioKoten joined Society6 on November 5, 2014
More
Just as one creates a story with words, StudioKoten uses images to build another, often surreal world. Sometimes scary, sometimes sweet. But always full of humor and colorful. Only when you look closely, you can see what is real and what is fiction. Then you step into another world. As in everyday life, much of what you see is not what it seems.
The collages of StudioKoten are handmade. Pictures from vintage and new magazines or books are cut out and assembled into new compositions.
StudioKoten is based in Amsterdam, The Netherlands.
StudioKoten joined Society6 on November 5, 2014.