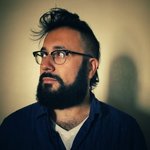 Nathaniel Soria's Creatorium of Artsy Things
Do not enter! Oh wait. It's just you. Sure, you can come in and take a look, but don't disturb me while I work. If you peruse my creative musings and mischievoury, be sure to put them back where you found them. And if you steal, I'll tell on you (there's no shame in tattling if art is on the line)– and they'll chop of your hands, so beware. Have any questions? Ask my cat, Whiskers, and he'll be sure to give you an answer. Whether it's an answer you like, that's your problem. If you refuse to enjoy my work, then leave– but be sure to pick up a free cookie on your way out. And don't forget to tell your friends. Nathaniel Soria's Creatorium of Artsy Things joined Society6 on August 11, 2015
More
Do not enter!
Oh wait. It's just you. Sure, you can come in and take a look, but don't disturb me while I work.
If you peruse my creative musings and mischievoury, be sure to put them back where you found them. And if you steal, I'll tell on you (there's no shame in tattling if art is on the line)– and they'll chop of your hands, so beware.
Have any questions? Ask my cat, Whiskers, and he'll be sure to give you an answer. Whether it's an answer you like, that's your problem.
If you refuse to enjoy my work, then leave– but be sure to pick up a free cookie on your way out. And don't forget to tell your friends.
Nathaniel Soria's Creatorium of Artsy Things joined Society6 on August 11, 2015.
Nathaniel Soria's Creatorium of Artsy Things's Store
46 results
Filter