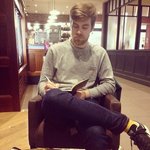 Stuart MacCabe
Stuart MacCabe is an Illustrator, Designer, Doodler and Ewan McGregor lookalike.
He loves to draw; drawing is the source of all of his illustrations/designs. His creative interests span from not only illustration, but also typography, graphic design, logo design/branding, pattern design, music, video games and film.
His inspirations spur from the people around him, the things he watches and the things he listens to.
http://www.stuartmaccabe.co.uk/
All illustrations © Stuart MacCabe 2012
Read more
Stuart MacCabe's Store
Filter