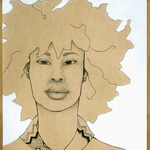 SuburbanSavage
The first step towards an amazing journey with eco-revolutionary designs. All of my designs are prints of original pieces made with up-cycled, recycled and reclaimed materials. This is granola art. My goal at society is to post my style and see how people respond to it before I open up my own Etsy shop and make my own prints. I am saving up to get a professional quality large format printer. My plan is to make my own paper by recycling discarded paper and natural materials. Then I will press this paper and print on it to produce quality eco-friendly designs made by me and other artists I know. Enjoy and leave comments. SuburbanSavage joined Society6 on July 23, 2013
More
The first step towards an amazing journey with eco-revolutionary designs. All of my designs are prints of original pieces made with up-cycled, recycled and reclaimed materials. This is granola art.
My goal at society is to post my style and see how people respond to it before I open up my own Etsy shop and make my own prints. I am saving up to get a professional quality large format printer. My plan is to make my own paper by recycling discarded paper and natural materials. Then I will press this paper and print on it to produce quality eco-friendly designs made by me and other artists I know. Enjoy and leave comments.
SuburbanSavage joined Society6 on July 23, 2013.