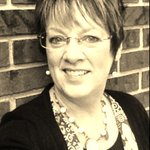 Sue Brassel Art
Sue is a self taught artist that has just recently come to terms with the fact that, yes, indeed, she is an artist. She found herself living out the cliché' in 2011, "as one door closes, another opens," when after 13+ years with the same company she was laid off. While this would be a negative situation to deal with in most people's lives, Sue gleefully jumped head first into paint, markers, molding paste, books, paper, and anything else she could get her hands on to develop her skill and move forward with her talent. She's gone from "doodling" to developing her technique and incorporating various materials into her finished pieces such as pages from books, various tissue papers, molding paste, printed photographs, sewing patterns, chalk and acrylic paints. Layers and textures are an integral part of her favorite works and she finds joy in seeing her pieces transform and change until they are declared finished. Sue struggled with deciding which direction her art should go. "One day I decided to quit thinking about it, and just get out of my own way. I now paint or draw whatever falls out of my head. I love to explore new things, so I have embraced the randomness of my art." While Sue is at home working in her studio, she is kept company by her sweet husband, . Sue Brassel Art joined Society6 on August 6, 2014
More
Sue is a self taught artist that has just recently come to terms with the fact that, yes, indeed, she is an artist. She found herself living out the cliché' in 2011, "as one door closes, another opens," when after 13+ years with the same company she was laid off. While this would be a negative situation to deal with in most people's lives, Sue gleefully jumped head first into paint, markers, molding paste, books, paper, and anything else she could get her hands on to develop her skill and move forward with her talent.
She's gone from "doodling" to developing her technique and incorporating various materials into her finished pieces such as pages from books, various tissue papers, molding paste, printed photographs, sewing patterns, chalk and acrylic paints. Layers and textures are an integral part of her favorite works and she finds joy in seeing her pieces transform and change until they are declared finished.
Sue struggled with deciding which direction her art should go. "One day I decided to quit thinking about it, and just get out of my own way. I now paint or draw whatever falls out of my head. I love to explore new things, so I have embraced the randomness of my art."
While Sue is at home working in her studio, she is kept company by her sweet husband, .
Sue Brassel Art joined Society6 on August 6, 2014.
Sue Brassel Art's Store
20 results
Filter