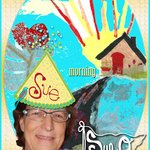 SueOdesigns
Welcome to SueOdesigns created by Sue O'Neil WORDS! COLOR! HUMOR!.......and a dash of contemplation. I am fascinated with the connection between a visual art picture and the attachment of words to it. It can be a single word,quote or phrase. I feel just saying the words has little or no impact but when a picture is attached to it magic happens. Join me in the magic! SueOdesigns joined Society6 on January 23, 2014
More
Welcome to SueOdesigns created by Sue O'Neil
WORDS! COLOR! HUMOR!.......and a dash of contemplation. I am fascinated with the connection between a visual art picture and the attachment of words to it.
It can be a single word,quote or phrase.
I feel just saying the words has little or no impact but when a picture is attached to it magic happens.
Join me in the magic!
SueOdesigns joined Society6 on January 23, 2014.