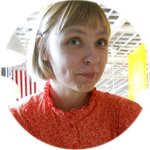 Missy Kulik
I am an illustrator, cartoonist, zine maker, artist, and crafter. I first started making comics in grade school and high school newspapers. Her first zines were self published in 1990. My comic called Tofu Baby appears in the Flagpole each week since 2006 and is popular with children and adults.
Read more
Missy Kulik's Store
Filter
663e56e9-983e-4810-b3ff-4bfacfc96742

Popular

7763ca9f-3515-4788-a0da-87a598c720d2

All
You are currently on society6.com.