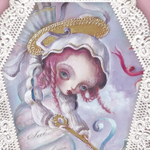 Sui Yumeshima
Sui Yumeshima is Japanese Oilpainter and Illustrator. First solo exhibition was conducted in Span Art Gallery at Ginza in2016. Then whil a go, Sui has graced the cover of TH Series No.64 in Japanese sub-culture art's magazine in 2016. Not only Oil paint arts, Sui has some art styles. 知らないのに知っているような、魔界のような天界のような"不思議とひきこまれる異世界"を描きだす夢島スイ。「哀しみの明るい昇華」をテーマに、受け手とビジョンを共有し、そして救済することを意識しながら制作しているそう。イラストも描きながら「絵が商品」という確固たるスタンス。ファストではなく、唯一の価値を生み出すという明確なビジョンをもちながらも、モデルやコスプレイヤーなど幅広く活動、絵と同様にとても異色な作家です。 written by 夏野 栄 Twitter: https://twitter.com/sui_yumeshima Web Site: http://totosuisui.jorougumo.com/ Sui Yumeshima joined Society6 on October 27, 2016
More
Sui Yumeshima is Japanese Oilpainter and Illustrator.
First solo exhibition was conducted in Span Art Gallery at Ginza in2016.
Then whil a go, Sui has graced the cover of TH Series No.64 in Japanese sub-culture art's magazine in 2016.
Not only Oil paint arts, Sui has some art styles.
知らないのに知っているような、魔界のような天界のような"不思議とひきこまれる異世界"を描きだす夢島スイ。「哀しみの明るい昇華」をテーマに、受け手とビジョンを共有し、そして救済することを意識しながら制作しているそう。イラストも描きながら「絵が商品」という確固たるスタンス。ファストではなく、唯一の価値を生み出すという明確なビジョンをもちながらも、モデルやコスプレイヤーなど幅広く活動、絵と同様にとても異色な作家です。 written by 夏野 栄
Twitter: https://twitter.com/sui_yumeshima Web Site: http://totosuisui.jorougumo.com/
Sui Yumeshima joined Society6 on October 27, 2016.