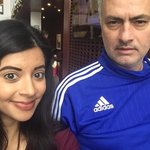 Suki Sabur
Printed textiles for Fashion Graduate. Dreamer, Designer, Do-er! I'm inspired by my travels, nature, and pretty much anything. I'd love to brighten up anyone's day with a design of mine. Visit my website sukisabur.co.uk for more! https://instagram.com/sukisabur_designs https://www.facebook.com/SukiSaburDesigns Twitter @smileygiraffe https://www.pinterest.com/sukisabur https://www.tumblr.com/sukisaburdesigns Suki Sabur joined Society6 on September 22, 2013
More
Printed textiles for Fashion Graduate. Dreamer, Designer, Do-er! I'm inspired by my travels, nature, and pretty much anything. I'd love to brighten up anyone's day with a design of mine.
Visit my website sukisabur.co.uk for more!
https://instagram.com/sukisabur_designs
https://www.facebook.com/SukiSaburDesigns
Twitter @smileygiraffe
https://www.pinterest.com/sukisabur
https://www.tumblr.com/sukisaburdesigns
Suki Sabur joined Society6 on September 22, 2013.