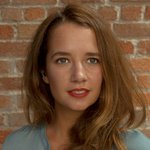 Summer Romasco
Summer Romasco is a visual artist who produces paintings, prints, installations, and sculptures. Summer attended the University of Rochester where she studied studio art, English literature, post-colonialism, and film and NYU where she studied humanities and social thought. She has lived and made art in Perry, OH, Brooklyn, NY, and Oakland, CA.
Summer's work examines where abstraction and figuration intersect. Uncertainty and ambiguity are her favorite phenomena, and her work often seeks out liminal spaces between understanding and mystery. Her figurative work depicts women who are literally falling apart or missing pieces, but they also feature simple symmetrical compositions and harmonious color. Even her abstract pieces focus on the intersection of conflicting states of being: violence and peace, calamity and calm, confusion and wisdom.
Summer's cultural influences include 90's film, 00's television, fashion, and literature, as well as comic books and cartoons. Theoretically she favors deconstructionism, and semiology because she likes to see the way things fall apart at the seams.
Read more
Summer Romasco's Store
113 results
Filter