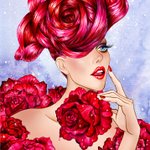 Sunny Gu
https://sunnygu.com
Hello! I'm happy that you have stopped by! My name is Sunny Gu, a Chicago & Los Angeles-based fashion & beauty illustrator. I was born and raised in China, I moved to the United States when I was 13. After encountering people from different backgrounds, I became very curious about other cultures. I learned to observe and discover beauties in everything around me.
I wish to find a way to capture and preserve the beauties that I see, the kindness that I feel, and recreate them in someway. I decided to become an illustrator and artist.
For most of my illustrations, I paint them in watercolor. I love the vibrancy and unpredictable nature of watercolor. Occasionally I use graphite or acrylic paint to render some special textures. I also create digital art for surface design and textiles.
My illustrations are always full of vibrant colors, rich details and delightful feelings. My work, on the other hand, is an endless journey searching for beauty, value, truth and self. When I paint, I am bathed in happiness, I hope my colorful illustrations can bring you some joy too!
Clients: I have been commissioned by the likes of Condé Nast, Vogue Magazine, Teen Vogue, ELLE Magazine , InStyle, The Telegraph , Bloomingdales, Westfield, Macy's, Nordstrom, Fashion Island , Bvlgari, Versace, Miu Miu, Dolce & Gabbana's Swide Magazine, Burberry, Prada, Carolina Herrera, Camilla, Brian Atwood, Topshop, Alice + Olivia , Express,Sunglass Hut, Designer Eyes, Aventura Mall, South Coast Plaza, Beverly Center,The Grove, Sephora, La Prairie, Shiseido, FANCL , Neutrogena , CVS Beauty, Sugarfina, Barbie, Disney, HBO, Dick Clark Productions , Zales among others.
Wish you a wonderful day!
Sunny
Read more