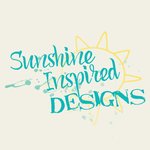 Sunshine Inspired Designs
My name is Ania Archer and I want to welcome you to Sunshine Inspired Designs, my personal website, and visual playground, to showcase some of the work that I have created in digital media. I have always been into everything involving creativity ever since I was little. As an artistic soul, I love creating beautiful designs allowing me to express myself. I'm constantly inspired by my everyday life. Have a great day and enjoy! If you want to learn more about me and my designs head on over to www.sunshineinspireddesigns.com Facebook: https://www.facebook.com/SunshineInspiredDesigns Sunshine Inspired Designs joined Society6 on July 9, 2013
More
My name is Ania Archer and I want to welcome you to Sunshine Inspired Designs, my personal website, and visual playground, to showcase some of the work that I have created in digital media. I have always been into everything involving creativity ever since I was little. As an artistic soul, I love creating beautiful designs allowing me to express myself.
I'm constantly inspired by my everyday life.
Have a great day and enjoy!
If you want to learn more about me and my designs head on over to www.sunshineinspireddesigns.com
Facebook: https://www.facebook.com/SunshineInspiredDesigns
Sunshine Inspired Designs joined Society6 on July 9, 2013.