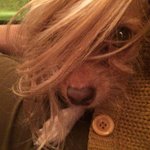 SuPeR BReN
hi. i am BReN. i am a designer mostly graphics and a passion for interiors. i have collections of some of my all time favorite LOVES: shelter pups (i work at a local animal shelter), all films / decor of the amazing wes anderson and a variety of super tasty bites. SPECiAL NOTE: all shelter pup back drops are available for custom society6 designs of your favorite furry pup. (i do best with short haired breeds). depending on difficulty, of image production, design prices range between $75-$100. with final high resolution image, you'll be able to have your furry friend produced on any item society6 offers. YEAH! check out my current shelter pups / parker posey (she's my old weimaraner) collections. if interested, send along a message. SuPeR BReN joined Society6 on December 26, 2015
More
hi. i am BReN. i am a designer mostly graphics and a passion for interiors. i have collections of some of my all time favorite LOVES: shelter pups (i work at a local animal shelter), all films / decor of the amazing wes anderson and a variety of super tasty bites.
SPECiAL NOTE: all shelter pup back drops are available for custom society6 designs of your favorite furry pup. (i do best with short haired breeds). depending on difficulty, of image production, design prices range between $75-$100. with final high resolution image, you'll be able to have your furry friend produced on any item society6 offers. YEAH! check out my current shelter pups / parker posey (she's my old weimaraner) collections. if interested, send along a message.
SuPeR BReN joined Society6 on December 26, 2015.