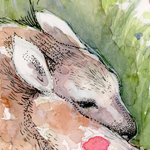 Julia Marshall
I am a 25 year old illustrator, and a recent graduate of the Savannah College of Art and Design. When I'm not drawing cool pictures, I can be found making costumes for children's theater, making papier mache masks, and designing elaborate knitting and embroidery projects. Julia Marshall joined Society6 on June 29, 2011
More
I am a 25 year old illustrator, and a recent graduate of the Savannah College of Art and Design.
When I'm not drawing cool pictures, I can be found making costumes for children's theater, making papier mache masks, and designing elaborate knitting and embroidery projects.
Julia Marshall joined Society6 on June 29, 2011.