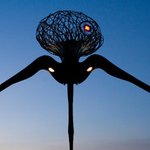 Surreal77
Jeremy Crotty AKA "Surreal77" grew up on a farm as an only child. Through most of his childhood he drew cartoons. Then from his teenage years to late 20's he experimented with oil paints and created many surrealism art works. In this period of time he also studied for 2 years at Claremont Art School, and studied Environmental art & design for 3 years. Now Surreal77 has been experimenting with digital art & design, still creating Surrealism art and also creating many other different designs. Surreal77 joined Society6 on May 9, 2016
More
Jeremy Crotty AKA "Surreal77" grew up on a farm as an only child. Through most of his childhood he drew cartoons. Then from his teenage years to late 20's he experimented with oil paints and created many surrealism art works. In this period of time he also studied for 2 years at Claremont Art School, and studied Environmental art & design for 3 years.
Now Surreal77 has been experimenting with digital art & design, still creating Surrealism art and also creating many other different designs.
Surreal77 joined Society6 on May 9, 2016.