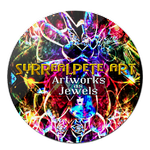 surrealpete
About my Art, Art Gifts & Sites I run; by surrealpete.
My art consists of works constructed using digital collage of multiple existing stock images, my own resources & pictures, partial/altered thumbnails
The original pix (can be over 20 in most cases) are morphed and blended and layered to create something new, a digital composite or collage bearing minimal or no resemblance to the individual parts used.
I maintain numerous pages and sites, each focused on a section of my artwork, art gifts and Art Jewels. The three most active sites are: http://surrealpete.com http://surrealpeteart.com https://www.etsy.com/au/shop/SurrealArtJewels
On my main tumblr blog, new & old works are posted as well as as smaller number of outside works by other artists. http://surrealpete.tumblr.com A full list of my social media is here - https://www.medotcom.com/surrealp
Digital Collage & Multimedia ARTIST in Sydney, Australia.
Unique digital collage works created using multiple images. All commissions considered from the very simple to one off specialities & projects. Works displayed in the Main Gallery are for sale as ready to hang Art etched on glass / metal as Limited Editions. Buy direct from Artist or our shop on Curioos.com
Buy Canvas or Prints direct on this website or the full range of mediums on surrealpeteart.com / www.surrealpete.com websites. Some Art Prints with simple frames available at RedBubble shop and Society6 Shop Artworks transformed into wearable accessories are in our Etsy Store 'SurrealArtJewels'.
This Society6 shop is open now, specialising in homewares/gifts, phone & laptop covers, showcasing some of my best works and some originals not for sale elsewhere. They are expanding the product range, Graphic T-shirts look awesome, as do the new beach towels.
The Redbubble Store focuses more on tote bags and pillows. Typoghraphy art classic and amusing quotes, misc designs - on gifts and homewares perfect gifts for any occasion.
If you have a big space to fill, Surreal Big Canvas has 5 options in 100x100cm canvases that may suit you. Or check out the giant sizes from Curioos shop.
My main Art blog, Quotes Blog, and Sandbox curated blog are hosted on Tumblr. A full List of Sites/Stores/Blogs is here. http://surrealpete.wixsite.com/surrealpetegroup
All email enquiries answered, and all commissions considered. Large and small. Contact me today.
Disclaimer: Finished works are for sale, and if any artist sees a substantial & easily identified part of their work in one of my collages, my advance apology for not altering that layer more. Please email & I will action such messages as soon as possible, as no copyright breach is ever intended.
Contact pages are on all my sites, do get in touch with any queries. SP
Read more
surrealpete's Store
Filter