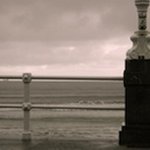 Susana López Fernández
Susana López F., a visual artist from Gijon, Spain, becomes a modern day flâneur through photography.
She studied Fine Arts, specializing in Paiting, at Barcelona University, from where she also holds a PhD. Soon after, Susana travelled to London, New York or London to complete her studies and her camera travelled with her to capture her movements. Step by step, this hobby turned into her main body of work and she changes brushes for the cameras.
Susana's artistic focus explores how the surface of the photograph is a modern day canvas to capture the 'routine', and transform it into something exceptional."

 Currently, her mission is to catch the beauty of a city with each shot of her camera in a bid to capture the unnoticed aspects of city life that we all often are too busy to realize it.  

The subject of her work is taken from, and inspired by, her personal experiences in the city and her daily life. Susana communicates through her pictures the history, architecture, consumerism and even immigration patterns of a city. She seeks to reveal this with a distance that reflects an objective and striking honesty. Some years ago she discovered the power of social media, which allowed her to expand her aims and really engaged with her concept on a wider digital platform. She loves using twitter, and her personal blog diffuses her projects, making her images, views and personal experiences accessible to everyone.
    Her work exists in gallery collections, town halls, cultural associations, and in collective and solo exhibitions in Spain and abroad. She recently showed her work in 1aSpace in Hong Kong, in Debut Contemporary in London or in PointB in Brooklyn, NY.

Read more
Susana López Fernández's Store
Filter