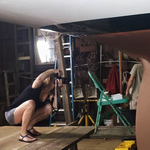 Susan Evans Grove Photography
An American artist living and working in New Jersey, Grove is interested in changing people's perceptions by encouraging them to see the extraordinary in the ordinary. Her intention is to open the viewer's mind and allow for new ways of thinking. Grove's work often focuses on the environment and human cultures' impact on it. She is the creator of the group "Thou Art Mom", which brings mother artists together for support and networking.
Grove graduated from the School of Visual Arts in NYC with a BFA in Photography. Her work has been exhibited throughout the United States, Europe, and Japan. She has been published in numerous books, magazines, and newspapers and has pieces in public and private collections both in the United States and Europe.
Read more
Susan Evans Grove Photography's Store
Filter