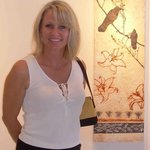 Susan Najarian Design
Welcome to Susan Najarian Design – romantic, fun vintage inspired images. My name is Susan Najarian and I am an artist and designer. I live on a small island near Seattle, WA in the beautiful Pacific Northwest. Nature and romance inspire my designs. Say hello at - susan.najarian@comcast.net You can find more of my work here – https://www.etsy.com/shop/susannajarian https://www.etsy.com/shop/redtruckdesigns http://susannajariandesign.bigcartel.com/ https://www.pinterest.com/susannajarian/ http://blackbirdsandbumblebees.blogspot.com/ http://instagram.com/susannajarian/ https://www.facebook.com/SusanNajarianArt Susan Najarian Design joined Society6 on June 11, 2013
More
Welcome to Susan Najarian Design – romantic, fun vintage inspired images. My name is Susan Najarian and I am an artist and designer. I live on a small island near Seattle, WA in the beautiful Pacific Northwest. Nature and romance inspire my designs.
Say hello at - susan.najarian@comcast.net
You can find more of my work here – https://www.etsy.com/shop/susannajarian https://www.etsy.com/shop/redtruckdesigns http://susannajariandesign.bigcartel.com/ https://www.pinterest.com/susannajarian/ http://blackbirdsandbumblebees.blogspot.com/ http://instagram.com/susannajarian/ https://www.facebook.com/SusanNajarianArt
Susan Najarian Design joined Society6 on June 11, 2013.