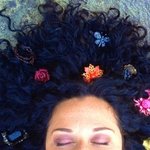 Susan Sanelli Hammack
Self-described artist, moon goddess, and glitter licker, Susan's warm sense of humor, diverse heritage, and numerous explorations in form and media have informed her personal style and aesthetic which has been described as playful, colorful, and bold. Her current interests are the nexus between art/design, healing and spirituality particularly in the context of building communities of grateful sisters intent on making the world a safer, better place for the next generation. Her sights are set on social justice projects, licensing contracts, and publishing inspirational art books. To learn more about Susan, visit her blog at http://www.susansanellihammack.blogspot.com/ Facebook https://www.facebook.com/susan.s.hammack Pinterest http://pinterest.com/artesana71/ Behance http://www.behance.net/susansanellihammack E-mail artesanaitaliana@yahoo.com Susan Sanelli Hammack joined Society6 on May 30, 2013
More
Self-described artist, moon goddess, and glitter licker, Susan's warm sense of humor, diverse heritage, and numerous explorations in form and media have informed her personal style and aesthetic which has been described as playful, colorful, and bold.
Her current interests are the nexus between art/design, healing and spirituality particularly in the context of building communities of grateful sisters intent on making the world a safer, better place for the next generation. Her sights are set on social justice projects, licensing contracts, and publishing inspirational art books.
To learn more about Susan, visit her blog at http://www.susansanellihammack.blogspot.com/ Facebook https://www.facebook.com/susan.s.hammack Pinterest http://pinterest.com/artesana71/ Behance http://www.behance.net/susansanellihammack E-mail artesanaitaliana@yahoo.com
Susan Sanelli Hammack joined Society6 on May 30, 2013.