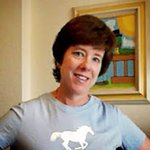 The Art of Suzanne Gee
At the age of twelve, I was honoured to have my portfolio reviewed by one of Disney's "nine old men", Eric Larson. He encouraged me to continue drawing, study art and go for it!
Around the same time, I hung out backstage at The Comedy Store in Hollywood with Buddy Rich who liked how I tapped the back of chairs with his drum sticks. For me, art & music have always gone together like Lennon & McCartney!
I've held solo & group art exhibits, edited & produced short promotional videos, managed social media pages, enhanced websites & have been published.
My roots are Celtic, but I was born in Puerto Rico, raised in the US & Mexico – so I like my beer dark and my food spicy!
Read more