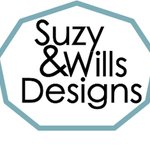 Suzy & Wills Designs
Hi, Welcome to Suzy & Wills Designs store on Society 6. This store sells my designs and photography which have been printed onto t-shirts, bags, mugs, phone cases and whatever else. I used to design for a small company that did bundles (100 fonts for $10) but after a while when you see daily - live,life,love,unicorns,dream,believe etc... you just want to bang your head against a brick wall, ironically these "positive" typography copies suck the creativity out of you. So with some recommendations I decided to start small and use my own designs for me and no one else. My typography is dark humour based and sarcastic. I have a lot of travel photography mainly archaeological sites and graphic design patterns which work on certain items. I am on Redbubble , Society 6 ( though that needs tidying) and there's loads of stuff on my Zazzle store where I sell a lot because of the vast range of products. Suzy & Wills Designs joined Society6 on October 9, 2015
More
Hi, Welcome to Suzy & Wills Designs store on Society 6. This store sells my designs and photography which have been printed onto t-shirts, bags, mugs, phone cases and whatever else. I used to design for a small company that did bundles (100 fonts for $10) but after a while when you see daily - live,life,love,unicorns,dream,believe etc... you just want to bang your head against a brick wall, ironically these "positive" typography copies suck the creativity out of you. So with some recommendations I decided to start small and use my own designs for me and no one else.
My typography is dark humour based and sarcastic. I have a lot of travel photography mainly archaeological sites and graphic design patterns which work on certain items. I am on Redbubble , Society 6 ( though that needs tidying) and there's loads of stuff on my Zazzle store where I sell a lot because of the vast range of products.
Suzy & Wills Designs joined Society6 on October 9, 2015.