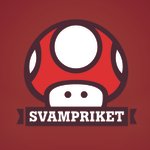 Svampriket
Alla Svamprikts inkomster från försäljningen går oavkortat till välgörenhetsorganisationen Push the Button Initiative.
All of Svamprikets funds gathered through sales here go towards the charity "Push the Button Initiative".
Om Push the Button / About Push the Button The Push the Button initiative is the unified efforts of the gaming industry to give back to some of the more unfortunate facets of society today, whilst recognizing that the youth of today will constitute a sizeable percentage of gamers tomorrow.
Just like other media and cultural forms, gaming should be accessible to all kids (great and small). We aim to enlighten and bring the joy of gaming to the less fortunate, one person at a time.
Read more