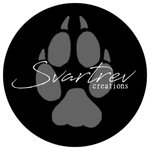 Svartrev
Female doodler from Norway. I've been drawing basically my whole life, but I prefer practising realistic art (hopefully I will be kicking ass with hyperrealism in the future), so I mostly do portraits and still life. And sometimes inbetween I illustrate what comes to mind. You can find me at: https://www.svartrev.com http://instagram.com/svartrev http://facebook.com/svartrev http://twitter.com/svartrev Svartrev joined Society6 on November 4, 2014
More
Female doodler from Norway. I've been drawing basically my whole life, but I prefer practising realistic art (hopefully I will be kicking ass with hyperrealism in the future), so I mostly do portraits and still life. And sometimes inbetween I illustrate what comes to mind.
You can find me at:
https://www.svartrev.com
http://instagram.com/svartrev
http://facebook.com/svartrev
http://twitter.com/svartrev
Svartrev joined Society6 on November 4, 2014.