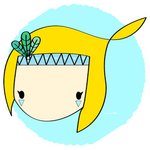 sweet scribbles
Well hello there! Welcome to the wonderful world of me attempting to be creative! I hope you enjoy my style of doodling, because that's essentially what it is, I really can't draw a nice piece of art to save myself! Inspiration comes from every aspect in life, and hopefully I can convert all that into my doodling! And hopefully you enjoy it as much as I do! I aim to make everyone feel happy by looking at my sweet scribbles, so please sit back take a look and smile :) Life too short to be grouchy! cheerio, sweet scribbles x w: http://sweetscribblesahoy.wordpress.com t: https://twitter.com/cloridaaa ig: http://instagram.com/cloridaaa sweet scribbles joined Society6 on October 21, 2014
More
Well hello there! Welcome to the wonderful world of me attempting to be creative! I hope you enjoy my style of doodling, because that's essentially what it is, I really can't draw a nice piece of art to save myself! Inspiration comes from every aspect in life, and hopefully I can convert all that into my doodling! And hopefully you enjoy it as much as I do! I aim to make everyone feel happy by looking at my sweet scribbles, so please sit back take a look and smile :) Life too short to be grouchy!
cheerio, sweet scribbles x
w: http://sweetscribblesahoy.wordpress.com t: https://twitter.com/cloridaaa ig: http://instagram.com/cloridaaa
sweet scribbles joined Society6 on October 21, 2014.
sweet scribbles's Store
35 results
Filter