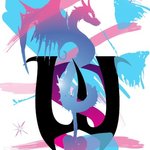 SwinkArt
Hello, I'm SwinkArt! Feel free to like my Facebook page for any upcoming / in progress art work at: https://www.facebook.com/SwinkArtDesigns I love to paint with acrylics, but I'm slowly evolving my skill in digital media. My goal is to have my art available in the form of amazing (and functional) products because there could only be so much wall space for art. If that's too vague just read more about me and my life below: Long time ago, in a galaxy far far away, I started my arting obsession on DeviantArt.com (which is still active and slightly updated at http://kujasultimate.deviantart.com/) My interest consist of fantasy, horses, manga/anime, dragons, Wheel of Time (book) and videogames (Crono Cross, Final Fantasy, Orphan, Spyro, Legends of the Dragoons, and Xenosaga). A large amount of my inspiration came from videogames. With all the support of my family, I took a bunch of art classes in high school, filled a bunch a sketch books with graphic and pen drawings, and received variety of acrylic paints and canvass every Christmas. I soon began to realize that Art was all I wanted to do and saw that opportunity in the advertising industry. I attended Milwaukee Institute of Art and Designs, and fell head over heals with the relationship of art and advertising. I discovered the skills for creating logos, branding, marketing, and understood the true importance of promoting companies is the lifestyle of the consumer. I graduated in 2012 with a Bachelors of Fine Arts (BFA) in Communication Designs and minor in Advertising. I had high hopes of working in an advertising industry creating graphics for all sizes of companies, and but of course the job market feels flooded. I did, however, get a job at a small company creating graphics for products, but I can only grow so far and it doesn't fill the void of the advertising passion in my heart. As I continued these last years feeling like my dreams of success rotted and withered away, I began to put more work into my personal art, finalizing my logo, the branding, the feeling, and developing new skills and style. In Christmas 2012, my family purchases a Wacom tablet, so I could achieve a different form of painting (digital painting). I attempted selling pearlescent art prints on Etsy, www.etsy.com/people/SwinkArt, but it didn't feel like the right place for my work. In the summer of 2014, I invested into art festivals and booth fees, booth set up / layouts and sold my work at two large local festivals. I've received positive feed back and noticed that my artwork appeals to the young adults and children. Because I'm still an active member on DeviantArt, there was an artist who was promoting his work in pillows, shirts, mugs, and all the awesome things. From this artist, I found Society6 and began uploading my work as soon as I could. And now, here I am. I feel that I have a strong logo, strong branding, interesting style of art and so many ideas to share. I'm still fresh meat on Society6, but because of my activity at fairs, I've sold pillows and prints to good homes. SwinkArt joined Society6 on January 31, 2014
More
Hello, I'm SwinkArt! Feel free to like my Facebook page for any upcoming / in progress art work at: https://www.facebook.com/SwinkArtDesigns I love to paint with acrylics, but I'm slowly evolving my skill in digital media. My goal is to have my art available in the form of amazing (and functional) products because there could only be so much wall space for art.
If that's too vague just read more about me and my life below: Long time ago, in a galaxy far far away, I started my arting obsession on DeviantArt.com (which is still active and slightly updated at http://kujasultimate.deviantart.com/) My interest consist of fantasy, horses, manga/anime, dragons, Wheel of Time (book) and videogames (Crono Cross, Final Fantasy, Orphan, Spyro, Legends of the Dragoons, and Xenosaga). A large amount of my inspiration came from videogames.
With all the support of my family, I took a bunch of art classes in high school, filled a bunch a sketch books with graphic and pen drawings, and received variety of acrylic paints and canvass every Christmas. I soon began to realize that Art was all I wanted to do and saw that opportunity in the advertising industry.
I attended Milwaukee Institute of Art and Designs, and fell head over heals with the relationship of art and advertising. I discovered the skills for creating logos, branding, marketing, and understood the true importance of promoting companies is the lifestyle of the consumer. I graduated in 2012 with a Bachelors of Fine Arts (BFA) in Communication Designs and minor in Advertising. I had high hopes of working in an advertising industry creating graphics for all sizes of companies, and but of course the job market feels flooded. I did, however, get a job at a small company creating graphics for products, but I can only grow so far and it doesn't fill the void of the advertising passion in my heart.
As I continued these last years feeling like my dreams of success rotted and withered away, I began to put more work into my personal art, finalizing my logo, the branding, the feeling, and developing new skills and style. In Christmas 2012, my family purchases a Wacom tablet, so I could achieve a different form of painting (digital painting). I attempted selling pearlescent art prints on Etsy, www.etsy.com/people/SwinkArt, but it didn't feel like the right place for my work.
In the summer of 2014, I invested into art festivals and booth fees, booth set up / layouts and sold my work at two large local festivals. I've received positive feed back and noticed that my artwork appeals to the young adults and children.
Because I'm still an active member on DeviantArt, there was an artist who was promoting his work in pillows, shirts, mugs, and all the awesome things. From this artist, I found Society6 and began uploading my work as soon as I could.
And now, here I am. I feel that I have a strong logo, strong branding, interesting style of art and so many ideas to share. I'm still fresh meat on Society6, but because of my activity at fairs, I've sold pillows and prints to good homes.
SwinkArt joined Society6 on January 31, 2014.