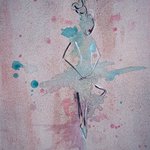 sycart
Tracy Stevens has been an Illustrator, Fine Arts Painter and Graphic Designer for the over 10 years. Being trained at one of the country's top art schools, Maryland Institute of Art, she has learned the importance of colors and the emotion that colors bring forth. She brings a different point of view, new ideas, and creativity to life on her canvases. Since 2000 Tracy has had paintings sold in Art Galleries and featured in numerous Maryland Art Place events, in which she volunteers. In 2000, one of Tracy's painting, "Broken Images" was published by Salem and her photo, "After the Rain" was published in an amateur photographer's magazine which was sold world-wide. Tracy has enjoyed many creative projects and collaborations. She is the creative development artist for Reign Modeling and Management, the Director of Entertainment & Graphic Design for Reign the group, produced graphics for the marketing expert at Lifetime Fitness in Columbia, MD, Skyloft Entertainment, Harcum Entertainment Productions, Comedian/ Actor Sterling Tyson, designer Tyler Wells, First Mt. Olive Freewill Baptist Church, Pamper Me With Events Party Planning, Collective Minds, and Illumimagg Christian Magazine. Tracy has designed cards for Sista Worth Greeting Cards and does layout for nonprofit organizations. In addition, she contributes layout for local Baltimore magazines, Self Help Books, DVD, CD, ITunes, and Traxsource cover art. Tracy also volunteers for Artscape, the Maryland Film Festival's events, the American Alliance of Museums, and Junior Achievement teaching children art and finances. Tracy is also serves a core member of Collective Minds. See the world through Tracy's eyes. You'll find it's a colorful world of possibilities, fun, colors, and culture. sycart joined Society6 on November 17, 2013
More
Tracy Stevens has been an Illustrator, Fine Arts Painter and Graphic Designer for the over 10 years. Being trained at one of the country's top art schools, Maryland Institute of Art, she has learned the importance of colors and the emotion that colors bring forth. She brings a different point of view, new ideas, and creativity to life on her canvases.
Since 2000 Tracy has had paintings sold in Art Galleries and featured in numerous Maryland Art Place events, in which she volunteers. In 2000, one of Tracy's painting, "Broken Images" was published by Salem and her photo, "After the Rain" was published in an amateur photographer's magazine which was sold world-wide.
Tracy has enjoyed many creative projects and collaborations. She is the creative development artist for Reign Modeling and Management, the Director of Entertainment & Graphic Design for Reign the group, produced graphics for the marketing expert at Lifetime Fitness in Columbia, MD, Skyloft Entertainment, Harcum Entertainment Productions, Comedian/ Actor Sterling Tyson, designer Tyler Wells, First Mt. Olive Freewill Baptist Church, Pamper Me With Events Party Planning, Collective Minds, and Illumimagg Christian Magazine. Tracy has designed cards for Sista Worth Greeting Cards and does layout for nonprofit organizations. In addition, she contributes layout for local Baltimore magazines, Self Help Books, DVD, CD, ITunes, and Traxsource cover art.
Tracy also volunteers for Artscape, the Maryland Film Festival's events, the American Alliance of Museums, and Junior Achievement teaching children art and finances. Tracy is also serves a core member of Collective Minds.
See the world through Tracy's eyes. You'll find it's a colorful world of possibilities, fun, colors, and culture.
sycart joined Society6 on November 17, 2013.