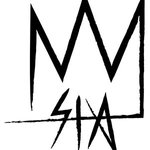 Sydney The Artist
Hip-Hop | Art | Culture | Life Sydney The Artist is a female painter, illustrator, visual artist and graphic designer. Originally from Sydney Australia (which is how her artist name came about). Sydney moved to Cairns Australia at the age of 18 struggling from mental illness, which is where she re discovered her love for the arts. Through great support and strong determination Sydney fought through mental illness and finished a Cert II, Diploma and Degree in Creative Industries and Business. Through studying and life experiences she formed her own style or artstic practice which is mainly influenced by hip-hop music. Formally known as Sydney Sneaker Art, Sydney The Artist's work has aspects of Pop Art, African Art, Aboriginal Art, Art Deco and Stencil/Graffiti Art. Sydney also does experimental art pieces such as ceramics, collage and clothing. Now living in Melbourne Australia Sydney has just completed a Diploma in Graphic Design and is an advocate for mental illness awareness. She is currently saving to move to New York City to chase her next dream of working in or connected to a major hip-hop label, and being inspired/apart of the hip-hop industry. Sydney The Artist joined Society6 on December 26, 2013
More
Hip-Hop | Art | Culture | Life
Sydney The Artist is a female painter, illustrator, visual artist and graphic designer. Originally from Sydney Australia (which is how her artist name came about). Sydney moved to Cairns Australia at the age of 18 struggling from mental illness, which is where she re discovered her love for the arts. Through great support and strong determination Sydney fought through mental illness and finished a Cert II, Diploma and Degree in Creative Industries and Business.
Through studying and life experiences she formed her own style or artstic practice which is mainly influenced by hip-hop music. Formally known as Sydney Sneaker Art, Sydney The Artist's work has aspects of Pop Art, African Art, Aboriginal Art, Art Deco and Stencil/Graffiti Art.
Sydney also does experimental art pieces such as ceramics, collage and clothing. Now living in Melbourne Australia Sydney has just completed a Diploma in Graphic Design and is an advocate for mental illness awareness. She is currently saving to move to New York City to chase her next dream of working in or connected to a major hip-hop label, and being inspired/apart of the hip-hop industry.
Sydney The Artist joined Society6 on December 26, 2013.