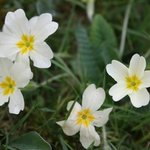 SylviaB
I am an artist from Switzerland. Art is one of my biggest passions since childhood, so I decided to join Society6 to get more exposure for my artwork. I studied set design at the Academy of Fine Arts in Bologna, Italy. I graduated on the 18th October 2006 with a Bachelor of Arts in Fine Arts (Diploma dell'Accademia di Belle Arti). Previously I attended an artistic high school in Lugano, Switzerland and graduated with a Cantonal High School diploma in Art (Maturità Artistica Cantonale). e-mail: sylviabuser@gmail.com SylviaB joined Society6 on May 2, 2013
More
I am an artist from Switzerland.
Art is one of my biggest passions since childhood, so I decided to join Society6 to get more exposure for my artwork.
I studied set design at the Academy of Fine Arts in Bologna, Italy. I graduated on the 18th October 2006 with a Bachelor of Arts in Fine Arts (Diploma dell'Accademia di Belle Arti). Previously I attended an artistic high school in Lugano, Switzerland and graduated with a Cantonal High School diploma in Art (Maturità Artistica Cantonale).
e-mail: sylviabuser@gmail.com
SylviaB joined Society6 on May 2, 2013.