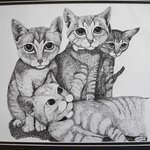 Syndi Smilez Studios
As a young age, I, Cyndi Schomer, knew I would become an artist. From kindergarten through college and on up into adult hood, art has dominated my life. Due to my love of animals and detail, pen and ink drawings have become the most favorite form of expression. I get a huge smile on my face every time I start then finish a beautiful creature. I have also been working on flower creations from my imagination. These have been a fun way to spend an hour or so! I will be posting my artwork soon....I am very excited to share my talent. Syndi Smilez Studios joined Society6 on June 15, 2013
More
As a young age, I, Cyndi Schomer, knew I would become an artist. From kindergarten through college and on up into adult hood, art has dominated my life.
Due to my love of animals and detail, pen and ink drawings have become the most favorite form of expression. I get a huge smile on my face every time I start then finish a beautiful creature.
I have also been working on flower creations from my imagination. These have been a fun way to spend an hour or so!
I will be posting my artwork soon....I am very excited to share my talent.
Syndi Smilez Studios joined Society6 on June 15, 2013.