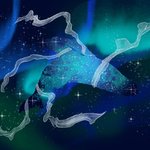 Syrazel
I'm trying hard to create beautiful art between many pets and a day job -- none the less, the works I present here each have a heartfelt and passionate message. The majority will likely have to do with conservation, for without the world and everything in it, we wouldn't be here. Much of what I make from my art gets donated to conservation groups who can do what I can not - help endangered wildlife and help educate the world about how important being a part and not above the world is! Syrazel joined Society6 on January 6, 2014
More
I'm trying hard to create beautiful art between many pets and a day job -- none the less, the works I present here each have a heartfelt and passionate message. The majority will likely have to do with conservation, for without the world and everything in it, we wouldn't be here.
Much of what I make from my art gets donated to conservation groups who can do what I can not - help endangered wildlife and help educate the world about how important being a part and not above the world is!
Syrazel joined Society6 on January 6, 2014.