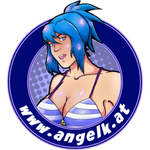 Davy Shirley
Creator of comics. Artist for hire. But mostly just a tea drinking code monkey who certainly doesn't have any plans involving a death ray. My various comic book series have a wide range of themes including; LGBT/Queer adventure-romance, superheroes, sci-fi, steampunk, monsters, and horror. Here on Society6 you'll find a selection of prints and merchandise relating to my various comic book series' but also illustrations, pin ups, and graphics that spill out of my pen. To find me elsewhere check out the links below... Web: http://angelk.at Twitter: http://twitter.com/t_iii Tumblr: http://www.facebook.com/angelKatEntertainment Instagram: https://instagram.com/t_iiiake/ Twitch: https://www.twitch.tv/t_iii Davy Shirley joined Society6 on December 8, 2014
More
Creator of comics. Artist for hire. But mostly just a tea drinking code monkey who certainly doesn't have any plans involving a death ray.
My various comic book series have a wide range of themes including; LGBT/Queer adventure-romance, superheroes, sci-fi, steampunk, monsters, and horror.
Here on Society6 you'll find a selection of prints and merchandise relating to my various comic book series' but also illustrations, pin ups, and graphics that spill out of my pen.
To find me elsewhere check out the links below...
Web: http://angelk.at Twitter: http://twitter.com/t_iii Tumblr: http://www.facebook.com/angelKatEntertainment Instagram: https://instagram.com/t_iiiake/ Twitch: https://www.twitch.tv/t_iii
Davy Shirley joined Society6 on December 8, 2014.