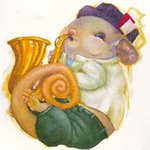 Clockways
Also known as clockways, I enjoy the cute, the squishy, and the bizarre. The art here will be a mix of fandom art that was too amusing to resist and personal art. See something in my shop that you want in another format? Shoot an email to clockways at gmail or find me at clockways on tumblr and I'll do my best to accommodate if it's possible. Clockways joined Society6 on January 14, 2014
More
Also known as clockways, I enjoy the cute, the squishy, and the bizarre. The art here will be a mix of fandom art that was too amusing to resist and personal art.
See something in my shop that you want in another format? Shoot an email to clockways at gmail or find me at clockways on tumblr and I'll do my best to accommodate if it's possible.
Clockways joined Society6 on January 14, 2014.