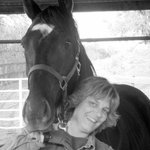 talonJstudios
Following that darn "rulebook" in life has never been for me. Though I may have chosen the road less traveled, I believe I am living a charmed but slightly off the beaten path life in the hills of Northern California. Wandering in these hills, together with my horse, has allowed me to see things and feel things I never have before. Being a self taught photographer, with a Nikon D90, affords me the opportunity to share with others what I see and how I feel.
My photography is inspired by the captivating landscape, the pounding ocean surf and soft sands of the beaches. It is in that moment I try to retain a picture that may never be again, whether that be the simplicity of a single raindrop or the magnificent floral colors dotting the landscape. I am at my best when I allow my spirit to run free and live in just that moment in time.
With the help of Photoshop, I am able to take things one step further. I love experimenting, manipulating and combining various layers, textures and collages and weaving them all into my design. The end result to be transformed but not limited to greeting cards, wall calendars and framed prints. I hope what I have captured, stirs the imagination of all to see things in a new refreshing and exciting way as I have.
Read more