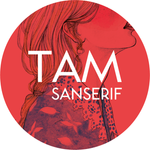 TamSanSerif
Hi! I´m Tamara, a spanish freelance illustrator. I've been drawing since I can remember, and I love people to see my work and enjoy it as much as me. Hope you like my work! ;) You can follow me on my facebook page: www.facebook.com/tamsanserif TamSanSerif joined Society6 on November 17, 2014
More
Hi! I´m Tamara, a spanish freelance illustrator.
I've been drawing since I can remember, and I love people to see my work and enjoy it as much as me.
Hope you like my work! ;)
You can follow me on my facebook page: www.facebook.com/tamsanserif
TamSanSerif joined Society6 on November 17, 2014.