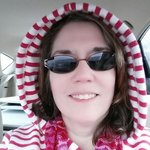 Tangitude Artworks/Mary J. Winters-Meyer
I'm fascinated by mythology, fairy tales, science fiction - anything that poses the question "what if". I'm also fascinated by the gorgeous, intricate sand mandalas Tibetan monks create, only to brush them away and start over again. I also love mathematics and visual representations of formulas - kaleidoscopes, fractals, geometry, spirals.
I currently create with colored pencils. One day, it suddenly occurred to me to take my love of mythology, science fiction, fantasy, and gaming and combine it with my love of geometric patterns with intricate detail and colors - and Tangitude Artworks was born.
I'm inspired by themes in books, myths, legends, games, TV shows and movies, incorporating symbols from those stories into a colorful abstract design – when viewed at a distance. In order to find the meaning, you have to study the piece, get close to see the individual symbols and find the subtle nuances I include in each design.
I also accept commissions – email me if you want a custom drawing. You can also sign up for my mailing list. Mailing list subscribers occasionally find something special in their inbox!
Read more