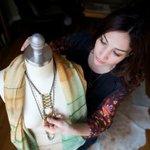 Tania Rodamilans
Artistic exploration that accents life is ultimately what my business is all about. My business is a combination of painting, design, collage and fashion. Based in Chicago, I create on my own out of my home studio, as well as collaborating with other artist/entrepreneurs. I say "accenting life" because the things I create are accessories, either to what someone wears, through jewelry or clothing, or where they live, through paintings and other one-off projects. www.taniarodamilans.com @taniarodamilans Tania Rodamilans joined Society6 on February 22, 2014
More
Artistic exploration that accents life is ultimately what my business is all about. My business is a combination of painting, design, collage and fashion. Based in Chicago, I create on my own out of my home studio, as well as collaborating with other artist/entrepreneurs. I say "accenting life" because the things I create are accessories, either to what someone wears, through jewelry or clothing, or where they live, through paintings and other one-off projects.
www.taniarodamilans.com @taniarodamilans
Tania Rodamilans joined Society6 on February 22, 2014.
Tania Rodamilans's Store
207 results
Filter